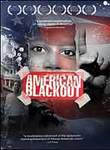 If you're upset and angry about what has been happening in this country over the last six years, then see this film. It will remind you of where it all began -- with the disenfranchisement of American Black Voters. Remarkably (but not unexpectedly), there has been very little discussion of this topic in mainstream media.
This thought-provoking documentary features Greg Palast and members of Congress John Conyers, John Lewis, Stephanie Tubbs-Jones, Bernie Sanders and Cynthia McKinney.
You can get it from the offical site: American Blackout or, rent it from Netflix.