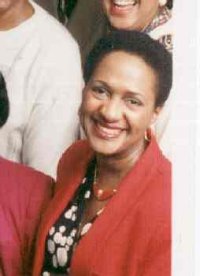 It was election day. The bookstore was closed on Tuesdays so Geoff and I were home. We were making our last minute decisions as to who to vote for in the local elections. It was a clear day of blue sky and soon-to-come fall weather. I felt good: the store was going well; and Geoff and I were happy and rested as we had just returned from vacation from the Caribbean. I turned on the TV to NY1 to see the morning news.
"Hey, Geoff, one of the World Trade buildings is on fire," I said.
"Yeah?"
"Yeah, lookit," I said, "A plane flew into it."
"Maybe it got off course?"
"I don't know. How can you miss something as big as that?"
"Shit," a large orange explosion burst into the air. Another plane flew into the other building. The reporter began to scream and was cut off by the station.
We ran out of the house to Fort Greene Park up to the place we often went to on our casual evening walks. The top of the hill was already filled with people staring at the burning buildings, black smoke billowing into the air. I couldn't believe my eyes. We all stood there silent. What was there to say? What were we to do? Do we continue with our daily chores? Do we go to work? What was happening?

Photo by Geoff Wisner
"Do you think the building will come down?" a woman asked.
"No way," I said. I knew that buildings don't come down, especially buildings constructed the way the World Trade Center was. Not two seconds later one of the buildings began to crumble. It looked like it was sinking into a cloud of dust and smoke. Everyone gasped. I pointed to what my eyes still couldn't accept seeing and noticed that my whole arm was shaking with fright. That shouldn't be happening. It just shouldn't be happening.
Geoff and I left the park. I decided to open the store just in case people wanted to be some place with other people and not be alone. I know I didn't want to be alone. I was terrified. On our way to the store I noticed that the sky was unnervingly quiet. There were no planes in the air. The sky was silent except for the sounds of a lone fighter jet. Geoff went home. I think he was in shock and not sure what he was doing. He later returned to the store. My friend from upstairs came down, John, the jazz trombone player. Then he left for a while. Then another regular came in, she was as white as a sheet.
"The Pentagon has been hit," she said, "and there's another plane flying around D.C. I'm really scared right now." We held each other. Two strangers in a bookstore, scared to death.
John came back down later and stayed with me as the people covered in Trade Center dust came pouring in. They had walked over the Brooklyn bridge in full business clothing. Some didn't know the rest of the way home and needed directions. One guy was cut and bloody and confused. He had been a window cleaner on a building across the street. He came in for coffee. I told him that maybe he should go to the hospital. "No," he said, "The hospital is for people worse off than me." His friend mouthed behind him, "Don't worry," meaning, he was taking care of him. I nodded back that I understood.
A few days later, the smell of smoke and human flesh still in the air (this is no exaggeration. Anyone here at that time could tell you the air smelt bad. The smoke flew over Brooklyn. Some of my customers even got business cards flying through the windows of their apartments), a man I've never seen before came into the store.
"Hi," he said, "I just wanted to let you know about Margaret."
"Who?"
"The lady that used to come in here. She always talked about your store and liked what you were doing here. She was yey high," he held up his arm to almost my height," and had short hair. She died in the Trade Center."
My mind flashed an image of the woman. I couldn't accept it. I knew the woman only briefly. She had attend several of my events at the store. We were just beginning a program of stage readings. It never really got off the ground but she was one of the people who always attended. The last event no one but her came. She smiled and said that these things take time. She told me about her ambitions to be a theater actress and was working on a one-woman show.
"Who?" I said again, still not accepting the reality. She was gone. Margaret was gone. Someone killed her and I watched her die. After he left I sat alone in my bookstore, sad and shaken. "It's too much," I thought, "This is too much."
I was soon joined by other regular customers. I was so glad to not be alone. I didn't know if I wanted to cry or just be held. It was enough to have friends around. We sat in the chairs in the front of the store.
"Did you hear about Margaret?" I asked everyone. I knew that Charles, a fellow actor, must know her.
"Yes," he said, "I know."
These are just a few of my memories of that time. I thought that I would share them today on the 6th anniversary of the attacks. I use this blog as a way to get some of the many memories I have of the store out of my head. So many things happened there, both good and bad. Margaret was one of my customers and she was also becoming a friend. It's not fair that she was taken away from her friends and loved ones. It's not fair that she didn't get a chance to continue to work on her dream of being an actress. It's all not fair.
I don't know exactly what happened that day, but I do know this, someone murdered a really nice person who did no harm to anyone. Her only crime was taking a temp job that happened to be on the 84th floor of the Trade Center. She didn't deserve it. And no one has been held to account. No one. Now, why is that?