Sunday | July 8, 2007 at 6:30pm
Pioneer Theater
East 3rd Street (btn Avenues A and B, but closer to B)
Showtimes: 212 591 0434
I was lucky enough to catch "Raise the Red Lantern" at the Film Forum earlier this year. (The film print has been restored to almost its original luster.) It has been many years since I last saw this film so it was wonderful to see that it has held up so well over time. Yimou Zhang is a master director. His other films, "Ju Dou" and "To Live" are also masterpieces. The film has a quirky sense of humor that mixes well the the hardships depicted in the story with the absurdities in the traditional life of a wealthy Chinese family. Every shot of this film is like a picture postcard, and as sweet as honey, which makes the medicine of the story go down easier.
The story is about the women in the household of a rich man in China. The drama is set by their conniving to get his attention. The sly ways they undermine each other in order to promote themselves is masterfully handled. It is also a sad commentary of the lives of women in China. Is this placed in the past or is it a contemporary story? I haven't been able to figure it out.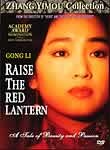 As of yet, the DVD has not been released. I don't know what the hold up could be. But in truth this film needs to be seen on the big screen. (Hurray for independent movie theaters!) See it at the Pioneer Theater this weekend in NYC. Don't miss this opportunity to see this truly great film on the big screen!
Update: A newer version of the DVD will be released on July 24.