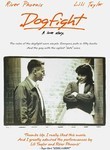 Dogfight is a wonderful little film staring two of my favorite actors River Phoenix (Stand By Me and My Own Private Idaho) and Lili Taylor (Say Anything and Ransom). The story is about a soldier on his last night before being shipped out in 1963. He and his buddies put together a party where they vie to bring the ugliest girl.
Liv Taylor does a remarkable bit of acting to make herself homely. (She is actually quite a beautiful woman.) This movie is enchanting. The simple storyline and the warmth in which it is depicted illuminates the times in which the characters live. It is a time of folk music and soldiers going off to this small unheard of nation called Vietnam.
This film reminded me of Before Sunrise, a sweet film that would usually be unwatchable, but because it is in the hands a really good director and some really fine actors, it becomes moving and introspective. Both films are stories of young love: the kind of love you can fall into before you grow up and life hardens you; the kind of love that is bare and raw and honest; the kind of love that can define how you look at the world for the rest of your life.