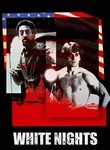 White Nights is an 80's flick that is worth revisiting. Ignore the electronic soundtrack, to be captivated by it's incredible dance routines. The late great Gregory Hines is a triple threat: he can act, sing, and damn, can he dance. Baryshnikov and Hines are at the heights of their powers in this film; and together, they are magical, almost superhuman. And then there is the surprise of the casting: Helen Mirren and introducing Isabella Rossellini!
White nights refers to the time of year when the sun doesn't set in northern Russia. Ballet star and Soviet defector Nikolai Rodchenko (Baryshnikov) is flying to Japan from Europe over Russia when his plane has mechanical problems and has to crash land in the Soviet Union. This is when the drama begins.
The film I remembered from so long ago was not the film I see now. I remembered an 80's pop film with the title song being played over and over again, Lionel Richie's "Say you, say me." Instead it is an adventure-musical complete with Gregory Hines performing a scene of "Porgy and Bess" — in Russian. (Not to be missed!)
Both Gregory Hines and Mikhail Baryshnikov perform amazing dance sequences with passion and relevance. They both are defectors seeking freedom, they just want to dance. But neither society will allow them to do what they are born to do. For Hines' character, it's an attempt to escape racism and classism, for Baryshnikov's it is an escape for freedom of expression. Each man has made a choice and we meet them living with the consequences of those choices.
This is a film worth watching again, if only for pure entertainment. I love revisiting older films. Sometime they disappoint. Then there are other times, like this, when you find an old gem that never lost its shine.